Venue
The conference will be held at the Hotel Corallo, in Riccione. The building, a few meters from the beach, near the center and the spa oasis, is located in a strategic position, and has a specialized staff with experience in hosting events and conferences, to be managed entirely inside the hotel or taking advantage of the facilities on the Riviera.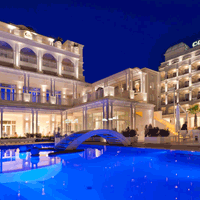 Meeting facilities

Number of rooms: 1 meeting room for 150 people - PLENARY.
Equipment: auditorium for 150 people, with chairman table, stand, double screen, sound system, video projector.
- Slides center.
- Secretariat.
- Hall to accommodate n. 80-100 Poster.