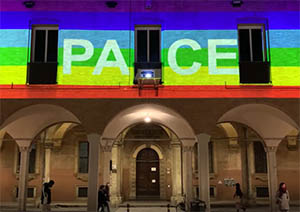 The University of Bologna is fully committed to take concrete actions in favour of students, members of the academic scientific community as well as the entire population of Ukraine who are victim of the war.
In accordance with what has been stated by the Conference of Italian University Rectors, the University of Bologna conducts its academic activities following and promoting peace and dialogue.
Study at the University of Bologna
Enrolling in single learning activities of Ukrainian students, a.y. 2022/23
The University of Bologna gives Ukrainian students, who are in Italy due to the war in their country, the opportunity to continue studying also by enrolling in single learning activities within the Unibo for Refugees project.
Online exams for Ukrainian students
Ukrainian students enrolled in first, single and second degree programmes will be allowed to take exams in remote mode until 31 March 2023.
Reserved places for admission to Business and Economics (CLABE) degree programme delivered in English
A special procedure for admission to the Business and Economics (CLABE) degree programme is open until 12 July 2022. It is reserved for students holding international or temporary protection, for the a.y. 2022-23.
FAQ for students
Read the answers to the most frequently asked questions by students.
Research at the University of Bologna
Supporting graduate students and researchers affected by the war in Ukraine
University of Bologna's research community is providing visiting and fellowship opportunities to Ukrainian PhD students, post-docs, researchers and professors, refugees in Ukraine or holders of a permanent residence permit in Ukraine.
See all opportunities
Visiting Fellows from Ukraine at the Institute of Advanced Studies
The Institute of Advanced Studies is ready to welcome 4 Visiting Fellows from Ukraine for teaching and scientific collaborations with the Institute and with the Departments of the University of Bologna.
Stays of 12 months are offered, from mid-April 2022. For more information on purposes, requirements and deadlines, read the call
Department initiatives
Support for voluntary language assistance services
A list of useful tools and resources intended primarily for students and all those who provide voluntary language assistance services. The list is updated by the Department of Interpreting and Translation.
More information
Psychological support
The teachers of the Psychology Department and the Transcultural Consultation Service are available to offer students psychological support and/or consultations. Contact unibo.consultazionetransculturale@unibo.it.
Words of peace, a FICLIT initiative
The Department of Classical Philology and Italian Studies - FICLIT wants to demonstrate everyone's commitment to peace through creativity, language, and literature. On its Facebook page and website, the Department publishes phrases, quotes, poems, and short texts sent in by the community to bear witness to its repudiation of war and all forms of violence and repression of freedom.
More information (in Italian)
Our voices for everlasting Peace
The initiative, organised and promoted by Centro TRATEÀ in collaboration with the Department for Interpretation and Translation and the Student Association SSenzaLiMITi, aims to share thoughts of peace and show support to the Ukraine academic community.
More information (in Italian) 
"War, or Rather Peace" - Key Words for a Philosophical Reflection
Series of conferences organised by the Department of Philosophy and Communication Studies – FILCOM together with RUniPace.
More information (in Italian)
University Support
Italian and international universities unite to support the Ukrainian people during this trying time.
The statements by the main university networks comprising the University of Bologna can be found below:
Actions undertaken
Coordination for the return of exchange students currently in Russia
Ongoing contact with Alma Mater students affected by the war
Availability to receive researchers and students with Ukrainian citizenship as notified to the Italian Ministry of University and Research
Ongoing cooperation with ER.GO (Regional Authority for the Right to Higher Education), Bologna City Council, Emilia-Romagna Region, and the Ukrainian Community in Bologna to ensure support to and reception of the Ukrainian people
Psychological support for students
Future actions
Organisation of Italian language courses for Ukrainian students
Support in the funding of scholarships (e.g. for Ph.D. Students and research fellows) related to research projects
Reception activity in collaboration with the University Departments
Public awareness events and initiatives
30 May - Open meeting with Antonio Parenti on EU foreign policy and the war in Ukraine
from 16 to 20 May - Economic Sanctions and WTO Law: the Case of Ukraine
18 May - Economic Responses and International Economic Law. The Russia/Ukraine Conflict
13 April - Children in the War (held in Italian)  
8 April - War in Ukraine: international organisations and human rights (held in Italian)
7 April - War and Peace (held in Italian, this event is part of the series of conferences "War, or rather Peace. Key Words for a Philosophical Reflection")
5 April - What if it doesn't end? Europe, the war, the blocked roads to pacifism (held in Italian)
1 April - War in Ukraine: Cyber Aspects (held in Italian)
25 March - War in Ukraine: its Implications on Agribusiness (held in Italian)
18 March - War in Ukraine: its Implications on Energy and Mineral Resources (held in Italian)
15 March – War in Ukraine. War and Peace in the 21st century (held in Italian)
14 March – Russia and Ukraine: Historical and Cultural Roots of this Conflict (held in Italian)
11 March – War in Ukraine: a Global Perspective (held in Italian)
10 March – Understanding the War in Ukraine. A lecture delivered by professors and experts (held in Italian)
9 March – Talk on the current conflict in Ukraine and the subsequent international crisis (held in Italian)
7 march - The geo-political, economic and legal implications of the Ukrainian crisis
4 March - The war in Ukraine: actors, developments and stakes
1 March - From the "Ukrainian crisis" to a "European crisis": historical-political and legal perspectives