Mi Muovo: single train-bus travel pass valid throughout Emilia Romagna
Mi Muovo is a single, integrated travel card for public transport available to residents of Emilia-Romagna, making travel on public transport much easier and more practical. At last, anyone travelling daily by train and bus can use a single regional travel pass, Mi Muovo.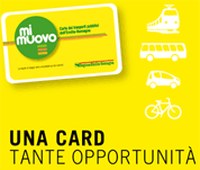 Advantages of the integrated travel system
An integrated travel car greatly simplifies the use of public transport.
Mi Muovo is practical and handy, no more queues, once you have it you can travel on different forms means of transport.