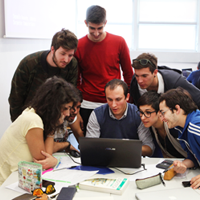 - Add to your study plan one or more key competencies - they will be useful in any field: Creativity and innovation, Foundation of entrepreunership Rimini, Entrepreneurship - Bologna, Entrepreneurship - Forlì, Innovare attraverso il fare (available soon), Imprenditorialità e imprenditività (available soon), Project management and soft skills.
- Take part in the Events4Entrepreneurial Awareness in January, immediately before the launch of the Call for Start-up Ideas by the end of the month.
- In February, those same ideas go through a first-round selection and are introduced via a series of meetings, aimed at identifying the more promising among them.
- In April, a call for players is launched to identify students who are interested in joining the selected ideas/teams, bringing their unique skills and competencies.
- In May, a selection of 30 ideas will be presented at Start-up Day, that brings together students, faculty members and investors.
- The Business Development Programme follows from June until end of October.
- A Pitch Session - in which best entrepreneurial projects are awarded cash prizes and get ready for final presentation to investors - is held in November during Investor Time.