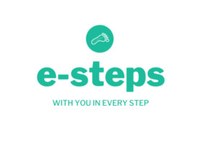 Company founded in:
2020
Business core
eSteps works on contrasting the increase of motor impairment of the lower limbs, offering monitoring solutions before, during and after hospitalization with telemonitoring programmes. Telemonitoring is also applied to sports, with state-of-the-art technology, personalised and sustainable solutions centred around the patient/athlete.
Reference industrial sector
Medical and Sports
Products and/or services
The first product it developed is a smart, personalised and sustainable device to monitor motor activity, fatigue and the risk of injury for professional runners. Athletes can use an app to share their data with their trainers and sports physicians.
Using the same wearable technology, we offer a telerehabilitation service for MS patients. The wearable device connected to an app allows patients to monitor their health condition and follow a remote rehabilitation programme without constantly interrupting their routine.
Registered office and headquarter
Registered office:
Via Risorgimento 281, Zola Predosa,40069, Bo
Headquarter:
Via Masini 11, Zola Predosa,40069, Bo
Website
Go to the website www.estepshealth.com

Contacts
+39 327 4782965
info@estepshealth.com