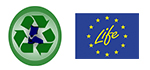 Abstract
Skiing is undoubtedly a sport activity that has a significant impact on the environment, due to the use of the soil, the use of chemicals for the prepaation of the slopes, the energy consuption of the ski lifts and, last but not least, the technical materials (skis and boots).
Ski boots are composed of a hard outer shell for support and a soft liner for confort and warmth: each ski boot is composed of more than a hundred plastic parts, mainly assembles by means of connectors.
The recover of post consumptions ski boots has been attempted by some producers in the past, but they failed mainly for disassembling and material separation costs of the large number of components.
Nowadays the 3,5 millions pairs of ski boots produced yearly worldwide are entirely made of virgin materials and landfilled after 3/5 years of use.
9,4 millions kg of virgin raw materials used for new ski boots production (6,4 million Kg of thermoplastic materials for the external part and 3 million of Ethylene Vinyl Acetate and polyolefin-based for the liner.
approx. 9 million kg of post consumer ski boots sent to disposal as waste.
- 33.800 tons of greenhouse gas emissions, expressed in CO2 equivalent, released in producing virgin materials.
- 963.000 Gj of oil and natural gas be required as feedstock and fuels to produce virgin raw materials.
As a part of its Circualer economy strategy, the European Commission launched the Final Circular Economy Package in 2018.
The project Life Reskiboots will achieve a 95% separation efficiency, 1.000 pair of boots manufactured, 90% recycled material used, 7% reduction final cost.
Three years after the project, 13.500 pairs of recycled boots will be commercialised yearly with a potential environment benefits due to the reduction of about:
36.320 kg of waste disposal
130 tons of greenhouse gas emissions equivalent.
Project details
Unibo Team Leader: Martino Colonna
Unibo involved Department/s:
Dipartimento di Ingegneria Civile, Chimica, Ambientale e dei Materiali

Other Participants:
ALMA MATER STUDIORUM - Università di Bologna (Italy)

Total Eu Contribution: EUR 1.412.007,00
Project Duration in months: 42
Start Date: 01/09/2020
End Date: 29/02/2024