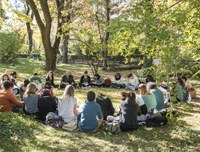 This ranking measures universities' impact on societies and their commitment to sustainable development according to the parameters of the UN 2030 Agenda.
THE Impact Rankings 2021 sees the University of Bologna first in Italy and third in the European Union. This evaluates universities' impact on societies and their commitment to sustainable development.
This year, THE included 1115 universities worldwide in its Impact Rankings - many more than last year, which saw only 766 being evaluated. This ranking considers the actions and the funds that each participating university undertakes and invest to achieve the Sustainable Development Goals (SDG) of the 2030 Agenda adopted by the General Assembly of the United Nations.
This year, the University of Bologna sits in position number 20 of the global ranking, achieving great results in each SDG.
In particular, Unibo stands out with its third position for SDG 16 "Peace, Justice and Strong Institutions". This SDG measures the ability to promote peaceful and inclusive societies, provide access to justice for all and build effective, accountable and inclusive institutions. Additionally, Unibo ranks seventh worldwide in SDG 4 that monitors the actions promoting inclusive and quality education for all and lifelong learning. Finally, the University of Bologna reaches position number 13 in the world within SDG 5, "Gender Equality", which keeps track of the actions for achieving gender equality.
These are outstanding achievements that validate the commitment of the University of Bologna to sustainable development. Indeed, in 2016, the University of Bologna made adaptations to its strategic plan linking it to the 17 goals of the 2030 UN Agenda. In this way, all activities at Unibo match one or more SDGs. Moreover, the Alma Mater has a system in place to monitor its direct and indirect impact as an institution. This system includes several yearly reports and many initiatives aiming at raising awareness among the academic community and described on the website AlmaGoals.
Published on: 22 April 2021