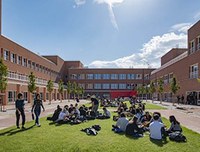 Do you feel stressed without greenery? For a relaxing moment, are you looking for nature?
Take part in the survey "Green Spaces & Wellbeing" to investigate students' relationship with nature, living environments and wellbeing. The survey is carried out as part of the collaboration agreement between the University of Bologna and University College of Cork.
Look at the video and take part in the survey: https://tinyurl.com/e6mh9v2n.
Published on: 15 June 2021