From 18 May 2021 to 26 May 2021
Teatro Alighieri, Via Angelo Mariani, 2, 48121 Ravenna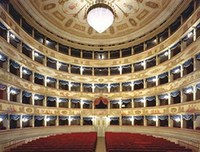 For an agreement with the Ravenna Campus, Emilia Romagna Concerti offers university students the opportunity to participate in two musical concerts at the Alighieri Theater at a cost of 1 euro for each concert.
Tuesday 18 May and Wednesday 26 May 2021, 8 pm, at the Alighieri Theater in Ravenna.
Discounted tickets must be booked at the Emilia Romagna Concerts secretariat at 333.4542567 (Matteo Collini answers). It is advisable to book early, starting today.
Tuesday May 18th
Enrico Mignani, cellist
Bruno Canino, Pianist
Wednesday May 26th
Young Musicians European Orchestra, Conductor Paolo Olmi, Soprano Sara Rossini, Mezzosoprano Daniela Pini

We support the reopening of theaters and young musicians, not so much financially as morally: do not leave the seat empty, rather give the ticket to a friend.
Published on: 07 May 2021