23 November 2016
Accademia delle Scienze, via Zamboni 31, 40126 Bologna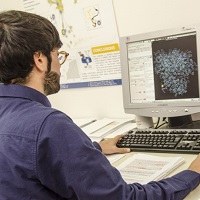 Italy will join the European Infrastructure for Bioinformatics ELIXIR, through the establishment of the Joint Research Unit ELIXIR-IIB (Infrastruttura Italiana di Bioinformatica).
ELIXIR is a research infrastructure, included in the ESFRI roadmap (European Strategic Forum for Research Infrastructure), an institution established by the European Council to define and implement the support strategy for pan-European research infrastructures. ELIXIR is a distributed infrastructure, with a central Hub hosted by the European Bioinformatics Institute (UK) and 19 national nodes, which gathers Universities and Research Centers committed with the management and protection of the growing amount of data generated in all possible fields of Life Sciences. 
The Italian Node is a Joint Research Unit, and composed of 17 partners, amongst which there is the University of Bologna and it is led by the CNR.
During the morning session, the scientific issues linked to "Big Data" in biologic field and the main functions and facilities for research of ELIXIR and ELIXIR-IIB will be described by their respective directors and researchers involved in the activities. During the afternoon, two round tables will deepen the research support policy towards ELIXIR and analyze the main areas of activity of ELIXIR-IIB. 
Apply online!
Beware: the availability of seats is limited! Deadline for application is on November 15th.
Contacts: 
email: rita.casadio@unibo.it, veronica.sanvicente2@unibo.it