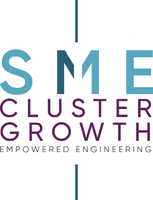 Unibo structure involved: ARTEC - Industrial Relations, Third Mission and Communication Division; Department of Management - DISA
Scientific Coordinator: Rosa Grimaldi
Unibo Team: Rosa Grimaldi, Herica Righi (DISA); Silvia Vecchi, Valeria Angela Carpenè and Elisabetta Marano (ARTEC)
Project Web page: www.smeclustergrowth.eu,  https://youtu.be/yysb405dSq4
Erasmus+ Action type: Cooperation for innovation and the exchange of good practices Knowledge Alliances for higher education
Project reference: 621648-EPP-1-2020-1-ES-EPPKA2-KA
Start Date: 1 January 2021
End Date: 31 December 2023
Budget
Total: € 999,977
UNIBO: € 132,492
Coordinator: Universidad de Malaga (ES)
Partners:
Cork Institute of Technology (IE)
University Industry Innovation Network Bv (NL)
Alma Mater Studiorum - Università di Bologna (IT)
Istanbul Teknik Universitesi (TR)
Momentum Marketing Services Limited (IE)
Crazy Town Oy (FI)
Institut Mines-Telecom (FR)
Universidad de Alcala (ES)
Summary 
The SME Cluster Growth project aims at empowering SMEs in the engineering sector to ensure their maturation and stable growth by equipping them with horizontal skills and knowledge. This will be achieved via a collaborative effort of higher education institutions (HEIs), future skills and business growth professionals and university-industry relationship experts that will respectively contribute to the advancement of SMEs' operational, attitudinal and adaptive capacities. The project will do this via (i) SME cluster growth training (ii) student business consulting, and (iii) a launch of cross-border facility sharing schemes. More particularly, the consortium will:1. Identify cluster growth needs of SMEs in 6 project regions and 65 (6x10 + 1x5) good practices on successful SME growth strategies (Mapping);2. Develop and implement SME growth mobility and training programmes for a group of 60 (6x10) SMEs including workshops, peer learning and cross-border hot desk schemes (Learning); 3. Launch cross-border network support structures in science parks and business organisations in the form of hot desks, university access points, and facility sharing for SMEs to explore growth opportunities (Facility sharing);4. Match 24+ (6x4) MA & PhD students with SMEs to conduct in-house research and 24 (6x4) BA students to take up business challenge projects in the areas facilitating cluster growth (Consultancy & practice-based learning);5. Develop and pilot test the 'Change of Perspective Programme' where 6+ academics and 6+ business professionals exchange their workplaces for a day to experience a different environment (Learning);6. Build 6 cluster growth networks through forming stakeholder councils and community and capacity building events in the partner regions and linking the project cluster SMEs to the European Cluster Collaboration Platform (ECCP) for visibility, network and future collaboration opportunities (Growth).