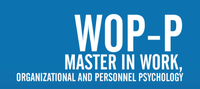 Unibo structure involved: Department of Psychology "Renzo Canestrari" - PSI
Scientific managers: Rita Chiesa, Luca Pietrantoni
Unibo Team: Luca Pietrantoni, Rita Chiesa, Sergio Sangiorgi
Project Web page: http://www.erasmuswop.org -https://corsi.unibo.it/2cycle/OrganizationalPsychology
Erasmus+ Action type: Learning Mobility of Individuals Erasmus Mundus Joint Master Degrees
Project reference: 619817-EPP-1-2020-1-ES-EPPKA1-JMD-MOB
Start Date: 14 September 2020
End Date: 13 September 2026
Budget:       Total: € 3,768,000 
Coordinator
UNIVERSITAT DE VALENCIA (ES)
Partners
ILLINOIS INSTITUTE OF TECHNOLOGY (US)
FUNDACAO UNIVERSIDADE DE BRASILIA (BR)
UNIVERSIDAD DE PUERTO RICO (US)
UNIVERSITY SYSTEM OF MARYLAND (US)
FLORIDA INSTITUTE OF TECHNOLOGY, INC (US)
ALMA MATER STUDIORUM - UNIVERSITÀ DI BOLOGNA (IT)
UNIVERSITAT DE BARCELONA (ES)
UNIVERSIDADE DE COIMBRA (PT) 
Summary
The Erasmus Mundus Joint Master Degree in Work, Organizational, and Personnel Psychology (WOP-P) is a 120 E.C.T.S. Master programme that aims to train talented experts in WOP-P for an increasingly globalized socio-economic context. It is implemented by an International Consortium. European partner institutions are the University of Valencia (Coordinating Institution), University of Bologna, University of Barcelona, and the University of Coimbra. Non-European partners are the University of Brasilia, University of Baltimore, University of Puerto Rico, Florida Institute of Technology, and the Illinois Institute of Technology. Upon Master's graduation, the University of Valencia issues a joint diploma on behalf of the European awarding institutions. The Master's employability is high (https://www.erasmuswop.org/employability). There are two general employability paths: as a practitioner and as a researcher. Acknowledging the importance of practitioner prospects, our programme spares no efforts to facilitate the access to international internships, which are most welcomed by the business community. As for a career in research, the student works closely with two tutors from different countries to prepare the Master Thesis, furthering their knowledge of international academic requirements. The Master addresses and distinguishes between the discipline's three fields (Work, Organizational and Personnel psychology), and establishes a difference in activities related to an "explanatory" approach to human behavior, and those emphasizing actions, changes and interventions in organizations, fostering health and safety, performance in workers and teams, and industrial development.
Our programme is designed according to the professional competencies model for the European Certificate of Psychology, supported by the European Federation of Psychology Associations (the Specialist EuroPsy Certificate in WOP Psychology). The Master adheres to the scientist-practitioner model, integrating science and practice within mutual interaction, and it considers both the evidence-based approach as well as methodology and research activities. It combines new developments in WOP-P about future of work (e.g., digitalization, robotization, automation, worker-technology interactions) and novel topics in line with the United Nations Sustainable Development Goals (e.g., decent work, industrial innovation, sustainability and equality in organizations).
Furthermore, multicultural skills and competencies are a Master's key element. Teamwork is encouraged among classmates from diverse nationalities and cultural background. This process of intercultural awareness is particularly fostered during the Master's Winter School (two-weeks generally in Spain), where students cooperate in teams in order to achieve shared objectives. Thanks to these strategies, students learn to face similar scenarios to the one's experienced in the increasingly multicultural context that future WOP psychologists will experience.