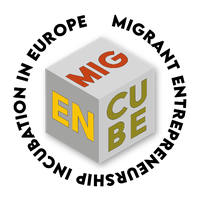 Unibo structure involved: Department of Management - DiSA
Scientific manager: Daniela Bolzani
Unibo Team: Daniela Bolzani, Laura Toschi, Rosa Grimaldi, Giulia Martinelli
Project Web page: https://site.unibo.it/mig-en-cube/en
Erasmus+ Action type: Cooperation for innovation and the exchange of good practices Strategic Partnerships for adult education
Project reference: 2020-1-IT02-KA204-080069
Start Date: 1 November 2020
End Date: 30 April 2023
Budget
Total: € 372,892
UNIBO: € 68,270
Coordinator: Alma Mater Studiorum - Università di Bologna (IT)
Partners:
Universiteit Van Amsterdam (NL);
Migration Policy Group (BE);
Impact Hub Amsterdam BV (NL)
Impact Hub Gmbh (AT)
Fondazione Grameen Italia (IT)
Place Network (FR)
Institut Supérieur De Gestion (FR)
Summary:
MIG.EN.CUBE is set to take into account the current critical issues in fostering migrant entrepreneurship in Europe, characterized by a fragmentation of incubation programs targeting migrant entrepreneurs, the diversity of actors that provide incubation activities, a strong focus on the "demand side" (i.e., migrant entrepreneurs) but a lack of training opportunities and exchange of best practices for incubation professionals targeting this group, and the super-diversity of (would-be) migrant entrepreneurs.
MIG.EN.CUBE thus seeks to enhance the knowledge and competences of diverse incubation professionals dealing with (would-be) super-diverse entrepreneurs, so as to foster the opportunities for migrant entrepreneurs to learn and experience how to start and growth a successful business. The project aims at (1) increase the understanding of specific incubation needs of migrant entrepreneurs and of the competences required for incubation professionals working with them; (2) systematize and share best practices for innovative incubation programs for migrants across Europe; (3) provide incubation professionals with new, tried-and-tested materials and tools for advising, training, performing, and assessing incubation for migrant entrepreneurs.
MIG.EN.CUBE is innovative in contents because it develops and strengthens relevant and high-quality knowledge and competences of incubation professionals, accounting for the super-diversity of migrant entrepreneurs and the diversity of incubation professionals' profiles, extending the offer of high quality learning materials and training opportunities tailored to individual adult learners' needs. The project is innovative in approach, because (1) it assumes that not only migrant entrepreneurs should be supported, but also the incubation professionals working with them (matching supply- to demand-side); (2) it works with a bottom-up logic, developing materials based on a scientific assessment of best practices and real training needs of targeted beneficiaries; (3) it is based on the collaboration between academic institutions, private companies, and civil society bringing complementary perspectives and competences. MIG.EN.CUBE is innovative in methods, because it proposes the development of learning materials based on a bottom-up approach and interactive processes, and the use of methodologies focusing on the development of transversal competences and action learning. Transnationality is a key feature of MIG.EN.CUBE, which brings together 3 European countries (Italy, France, The Netherlands) characterized by different immigration flows and legal frameworks and 2 European countries providing pan-European approach (Austria and Belgium).
The methodology of the project is designed around four main phases: (1) the preparation phase, carried out before the beginning of the project and within the first three months of activity, to provide with a strong background to start; (2) a scanning and assessment phase, which aims to increase the public understanding of specific training needs of migrant entrepreneurs and incubation professionals dealing with this group; (3) the production phase, which regards the development of training contents targeted to incubation professionals; and (4) the dissemination phase, aimed at achieving impact and relevance.
A total of 453 persons will be directly targeted in project activities, as involved in qualitative and quantitative research for Synoptic Scan and Training Needs Diagnostic Assessment, development and piloting of "Incubating Migrant Entrepreneurs" MOOC and "The Inclusive Incubator" Guidebook, national Dissemination Seminars and European conferences. Around 7,000 persons will indirectly benefit from project activities through extensive dissemination actions and long-term impact of intellectual outputs.
The main project results will be the MIG.EN.CUBE Synoptic Scan Research Report, the Library of current practices to incubate migrant entrepreneurs, the Training Needs Diagnostic Assessment Research Report, the "Incubating Migrant Entrepreneurs" MOOC and "The Inclusive Incubator" Guidebook. Collateral outcomes will be dissemination and exploitation tools, such as public presentations, scientific and non-scientific articles. In order to ensure the long-term availability of all project results, they will be placed on the project website, which will store virtual resources (digital) under open access for 2 years after the end of the project, other virtual repositories, and connected to EPALE platform.
The impact of the project is expected to be significant both numerically and in terms of results from building capacity of the target group in the long term, also aided by a relevant Associate Partner (UNCTAD). The project will strengthen the efficacy of support programs linking entrepreneurship and migration, focusing on the development of relevant high-quality knowledge and competences for operators in the supply-side and policy-makers.