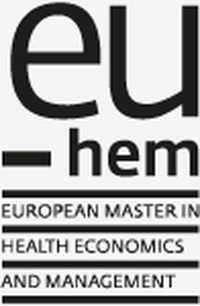 Unibo structure involved: Department of Economics
Unibo Team: Dott.ssa Sarah Russo
Website:
http://eu-hem.eu/
Project Duration in months: 60
Start Date: 01/10/2017 
End Date: 30/09/2022
Partners
Coordinator: ERASMUS UNIVERSITY ROTTERDAM (NL)
Partners: MCI MANAGEMENT CERTER INNSBRUCK (AU); ALMA MATER UNIVERSITA' DI BOLOGNA; OSLO UNIVERSITY (NO)
Degree Type: Multiple degree
Budget: 1.962.000,00 euro
Description
Employment in the health service sector rapidly growths throughout Europe. Across Europe around 10% of all jobs are to be found in the health sector. Hitherto, health care systems in Europe and worldwide face huge (budgetary) challenges due to population aging, increasing prevalence of chronic diseases, technological innovation and globalization. Therefore Europe needs specialists who can optimize processes in order to ensure greater efficiency.
To meet this challenge, the Erasmus University Rotterdam in the Netherlands, the Management Center Innsbruck  in Austria, the University of Bologna in Italy, and the University of Oslo in Norway have developed a two year joint master's degree in Health Economics and Management (Eu-HEM). Eu-HEM is an interdisciplinary and international master program that is accredited in four countries.
Eu-HEM gives students access to a full array of health systems and reforms virtually spanning almost every model in the world. Furthermore it brings together the best staff and best courses in health economics and management of the four universities. Likewise, partners in industry, health care organizations, international - and national health policy provide training in transversal skills, guest lectures, mentoring and internships.